Friday - Heading North Day 1
Early wakeup and an 8am departure for the north. 3 days of bus travel to the Laos/Burma border. First stop is the ancient Thai capital city of Ayuthaya. This was sacked by the Cambodians in the 1700s (?). Lots of rubble and pillars, but a 14m Buddha within the temple. Wat Phra Si ?? What's the other temple called? And the Ruins??
Next stop was Lop Buri, aka Monkey City. A large number of urbanized monkeys (Macaca fascicularis - long-tailed macaque), live here, though interestingly there is a spliter klan that lives in the buildings, the Condo monkeys. The original group resides on the old temple (Prang Sam Yot) grounds. These monkeys are trained food sluts, sometimes just grabbing anything they see in people's hands. We apparently were discretely followed by a guy with a big slingshot should the need arise. The monkeys are a bit of a nuisance to the town, but bring in a lot of tour buses stopping on their way north. That aside, the Thai don't believe it right to exterminate excess animals - for the same reason stray dogs survive well enough.
From there we drove on to our city for the evening, Phitsanulok. Here we had an evening event - a ride on bicycle rickshaws. I think we paid 400B to share a seat which a small woman got the fun of hauling about. These were single gear bikes so starting from a halt was not easy. Our first stop on the tour was a stand selling dried bugs of all sorts. Khai and I started out with a scorpion - a bit dry and fibruous. Sylvia complained about a particularly dry silkworm, but the one I got was quite juicy. Bamboo worms were the simplest, easy going choice. I got a can of scorpions for my return home - 150B for what ended up being just 2 of the critters.
Next we went to "Flying vegetables," a bit of a tourist joke. They fry up a green vegatable called Morning Glory - it's a nessled mess of greens that is very easy to toss. So they put us on top of a 15' platform with a mitt and a platter to play catch. A bit silly, just a gag to draw us downtown. Here is yet another night market, but Sylvia isn't biting. We want to get dinner, but it proves a bit challenging in that the menus are Thai characters only. A profit minded waitress notices and brings us an English version menu, so she won our business. It was cheap - 40B/dish and for a large beer. On the bad side - mosquitos are a big problem on the river and it made us eat quickly. No bug spray and we're a bit paranoid of catching a tropical disease.
We then get a ride back to the hotel, the Topland, which is really nice. One quirk it does have is the bathroom drops down a couple inches and then the tub is on a raised platform. I got the sense during this trip that they don't worry too much about level during construction. Each section is made and they either put it a ramp or a drop where the sections meet. It's very easy to trip over the resulting 1-3" changes.
---
Saturday - Heading North Day 2
Phra-Si.

This morning we hit a lot of small sites. We started by going to a bronze buddha factory. Not much activity was going with the molding, but we were able to watch the guilding process. 500 squares of 24k gold leaf paper is used to finish a 10" figure. At 10B per square, that accounts for nearly all of the 6000B selling price. Also on the same grounds was a barn for fighting cocks. This is a very popular sport in Thailand, with top birds selling for 100k up to 1 million baht.

We all hit a silk factory, but there was nothing going on at all, just a gift shop. Last, we went to a kiln - certainly not my idea of an exciting time.

After lunch, we went to Sukhothai - another ancient area. It looked oddly like Ayuthaya, but without having been sacked, so apparently this is just an artifact of being centuries old. Here there are many many Buddha figures of different sizes and forms.

We then arrive in Lanpang, a small town with the tourist attraction of horse drawn carriages. Sadly, we're very tired and sleep from 6pm till 7am the next day, despite the short and hard beds.
---
Sunday - Heading North Day 3
This is a long day too. Thankfully we're well rested. We start the day with a quick stop at a pineapple plantation. Rather than trees, these essentially grow out of the ground. There are 3 crops per year, declining in size with each one. Fresh pineapple is of course very good.

Next is another tourist curiously called Dancing Shrimp. We stopped in a town on the edge of a large lake. A woman then mixed a bowl of small brine shrimp into a ceviche like mix of peppers and greens and I think like. The shrimp are bouncing around as you put a big spoon laddle full into your mouth. Lots of fiber!

We continue onward to the Golden Triangle, the intersection of Thailand, Burma, and Laos along the Mekong River. This was once one of the major sources for opium trade, now it merely has a museum. It also has giant catfish called Pra Bierg that get up to 200kg in size. I had a spicy variant of this at lunch. Once again ordering ala carte puts me well ahead of the bland and expensive 200B buffet we've seen at every stop on the trek north.

We take a river tour that cruises up towards Burma first (we can see a casino, but that's it) and then we land on the Laos side. Here there is a village full of small vendors that sell mostly Chinese made good, including bottles of whiskey with cobras or centipedes inside. I also saw some fairly nice knives selling for 500-600B. They were better than the ones I saw later in Chaing Mai. We got a fake passport stamp from the post office, and I bought a small bottle of the whiskey for my Thai Fear factor for the Super Bowl halftime when I got home.

Back to the bus for a drive to the Burma border at Mae Sai. Another shopping mecca, but we only had about 30 minutes. We discover oversized avocados at 35B each, but afraid it's something else. I did get a great large carpet for $5, pass on a $10 mini tripod for my camcorder thinking I'd see more deals later (never did). We didn't cross the border- Mynanmar is a bit paranoid and it takes a long time to do.

We now finally get to go home to the hotel in Chaing Rai, the Rinkok resort. Has a beautiful pool and is along the river, but place is getting run down. The effects of lost tourism may be apparent. We have a big mosquito problem here and I am literally killing dozens within the room. I repeated this process the next day after the maids left the doors open.

City night bazaar - we discover the best form of roti - a banana and egg combination that we kept eating for the rest of the trip. They take a very thin pancake and put it on an oil pan, then dump in the mixture of banana and egg. After folding it up, they then pour what seems to be sweetened codensed milk (with 10% palm oil?) and sprinkle cinnomon and sugar over the top. The market was one of the best we saw on the trip. Also has many hill people with wares. The food court had more bugs and squid, but too many flies to make me feel good while eating. How is trash taken care of here? You throw it under any stall. It's an odd contrast to a country that tends towards the extremely neat.

Continue on to Part III.
Pictures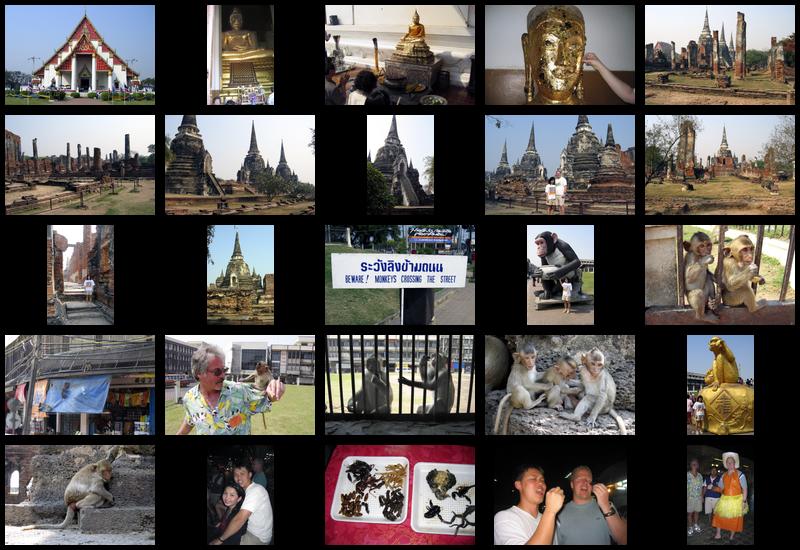 ---