Monday - Chiang Rai
We get up to take an optional Hill Tribe tour. These are small ethnic tribes that live in the mountains. While they were once effectively sequested from modern society, this isn't nearly so true now. We get up there in the minibuses common to northern Thailand. It's a bit short and the back door remains open like a jump plane, also lets in some fumes. We bring bags of junk food to give to the people (ugh).
1- Shan (Thai Yai) - known in particular for the long neck women. As early as 5 years old or even sooner, the girls put on very heavy (10lbs?) coils which are never removed in life. Effectively it forces the shoulders downward, making the necks look longer. We pay 200B each at the entrace, not sure if that went to all tribes or just this one. It's a bit of a vertical hike down to get into this place, much further from the road than the others we went to. I bought a water bottle holder here.
2- Akha - the poorest of the tribes, most often seen in the night markets. Worst of the welcome dances, no goods for sale. Odd feature here is a symbolic village gate, next to which is two very sexual wood figures. Their belief is that human sexuality frightens off bad spirits and keeps them from entering.
3- Mien - these tribe members have a large red furry collar. Are a very proud tribe, one of the most proporous. Lots of vendors here. We also went inside a couple homes, one a '5' bedroom pad.
It wasn't clear how many of these goods were really made by the tribes, or imported from China.
We go back to the hotel and I have a nice time in the brisk water of the pool. Might be 65F. I get in the jacuzzi area which has the bubbles, but the same cold water. We had come back too late for the lunch buffet - it was open, but badly picked over. So instead we went for a cheeseburger and a banana split. Mmmm, very good. But guess which came first?!
In the early evening we join Nok and Mona to visit the temple where the emerald buddha (now in Bangkok) was discovered. It also goes by the name Wat Phra Kaew. Now this one has a recently made copy, and here we are allowed to photograph it. It also has many monk trainees (boys aged 7-??) that at 5:30 each day go into the main hall to chant. After the sun goes down we head back to the night market in an unsuccesful hunt for duck.
---
Tuesday - Drive to Chiang Mai
Today felt like a day on the China tour- lots of opportunity to, as Mona puts it, make Thailand green with money. First stop was at one of the Cabbage & Condoms (C&C) restaurant/inn, a small chain that directs some money towards safe sex in the country. In the bathroom the vending machine sells 2 thai rubbers for 5B. Gift shop, but mostly a rest stop. We were also able to buy a nice food treat inbedded inside a bamboo shoot.

Next stop is a umbrella/paper factory. I still don't understand how paper is made, the place also sold art, and you could have articles decorated with oil based paints. Sylvia had her jeans done for 50B each. I picked up a painting of elephants under the moon. After here, we stopped in a a ceramics shop - I got some chopstick holders and a small goose shaped sushi server plate.

The last 'factory tour' as the jewelry store. It opened with a classic movie of the virtues of possessing precious stones. Then onto the sales floor where we had our dedicated sales lady following us all about. I did get a cheap jade elephant ($6) but passed on a matching gold chain for $155. We then head for the hotel in Chiang Mai.

The hotel grounds are very nice, the room is still decent. We are very close again to the city's major night market, this one a massive one. Better knives, but never found one I could bite on. Sylvia finds two skirts - one "silk" (?) for 300 (from 450B), one rayon one for 120 (150B). She's convinced she was taken on the first one. Bargaining is always a game of unknowns because you don't know how close their starting price is to their finishing price. Sometimes we try with me out of sight.

This night market had a lot of hill tribals walking about, all selling the identical set of cheap junk, very insistantly. One interrupted our dinner repeatedly - everytime I said no she put out another arm of crap. Not the best sales approach.

Dinner was entertaining - Sylvia still wanted some duck and we find a place with ducks hanging behind the glass. She wanted duck noodle soup and attempts to point out the three bits on the menu. Result is we get beef noodle soup, plus a half duck. A lot of food and a good price. 150B for 1/2 duck. We had passed on the optional dinner with culture show, afraid of a repeat of the Bangkok one. The nice thing about this tour is being able to hunt for dinner every nice. Only 6 people in the group went.
---
Wednesday - Chaing Mai Day 1
Head out in the morning to go to the Maesa elephant camp. You can feed them bananas and sugar cane - sold in giant bunches for 20B each. Peel the bananas for the youngsters, but the big guys can eat entire bunches at a time, as Sylvia discovered when one passed on the single and instead took the bunch. After feeding many, we see the morning bath routine in the river, and then a show. Elephants play the harmonica, soccer, do "art" (trained to do two styles- trees with leaves, and random dot art), and move big logs about. We then get a hour ride up and down the hills on Poo Billy, 1 one tusked 21yo.

On the return we briefly stop at an orchid farm, that also has a collection of caged siamese cats and pure bred dog breeds. Not much for me there.

We do an email check and find Teresa would like a Loiue Vitton bag - white with rainbow logo. After a while we figure out what this is and it becomes our final 2 night mission to score a bag and a wallet. Venbors seem firm at 1500 for the bag, 800 for the wallet. Still waiting.
---
Thursday - Chiang Mai Day 2
Optional temple and city tour. We open with a temple in the city center, Wat Suan Dok, notable for a tall standing buddha holding wheat in her hand. There is a parade going on. Then we head up into the hills to Doi Sutep, a golden promised land. Likely the grandest we've seen on the trip, but honestly we're a bit temple fatigued by now.

Just outside the temple we go to a jade factory where we hear a good presentation on the different varieties of jade, and methods for determining fraud. After a lot of thinking, Sylvia gets a pendant with a purple jade center.

Back to the shopping - she wants those LV pieces for 1700. I stay clear for this and she manages to get to 1800 on her first try. But the guy goes off to get the merchandise and upon coming backs says the boss won't allow it and wants 3000. Unbelievable - a major violation of Thai norms. But we find it elsewhere easily enough - just stop bargaining with vendors that don't have it physically present.

I decide we need another piece of luggage and hunt for a hard shell piece that I can make use of for non diving trips. Find something twice offered at 1800 and pass. Later a place starts at 2800, we buy at 1200. Sylvia thinks we should have held for 900 - every time we walked away they moved downward. Hard to tell. Then went to have a nice meal at a British place- pepper steak, cheeseburger, and a dark beer. The avian flu scare is in full crisis - a nearby German restaurant had pulled all chicken off the menu.
---
Friday, Chiang Mai day 3 (and final day in Thailand)
We get up extremely early - 5:30 - to go out to give food to the monks. Again indirect support is preferred. 20B gets rice, milk, some meat (?), something else, an orchid, and incense. The monks just walk along the road and we place the items in their basket. They then chant a prayer (?) to us, and proceed back to the temple.

From there we headed to the Chinese/Flower market. Everything for sale - frogs, fish, and more. We then go home to the hotel and sleep till about 11. Checkout is at noon. Pack pack pack!

We then make a second try at Thai message. 400B/2 hours at this place. The rooms are more communal - 6 mats in each region behind the curtain. Attendants do not leave for us to change. This time I get a less forceful one- she has a bit of trouble with my length. Sylvia, otoh, gets a ball buster and said she was in fear at times! Afterwards they wait and then pointedly demand a tip - give 100B each.

We now have time for a good meal and then it's time to go to the airport. We have a great meal at Whole Earth, an Indian/Thai establishment. They too were not serving chicken, but we have several great dishes and ended up having one of our most expensive meals of the trip. I have just enough cash (US and Baht) to pay for our optional trips and to tip the guides.

The long journey home - Thai Air - a joke. It's only hour 1 of 36 (and I've been up 12 already) and I'm losig my patience with the slow and confusing check-in. On the positive, we managed to check our luggage in through LAX. The flight itself was something - we got a snack meal of shrimp salad for a 51 minute flight. On landing it takes 20 minutes to get a door open. Doesn't matter- KAL is no better - flight delayed an hour and we wander about just finding where to check in. Line moves at 6 minutes/party.

End of notes - I went into survival mode. Main flight had nice video system - individual monitors and you can choose the movie to watch. But it's still a long process. By the time we got to Oakland, we're grumpty tired folks. I took Jenny out to lunch for picking us up, but I don't think I made for great conversation. I'm asleep by 5 or 6 - some 53 hours into the day. I saw the sun rise 3 times. I slept until about 7 the next morning, getting up just ahead of time before Melinda and Angie showed up for the superbowl Sunday 5k/half marathon. Needless to say, it wasn't a fast time. Still, a good wait to reset my clock.
Pictures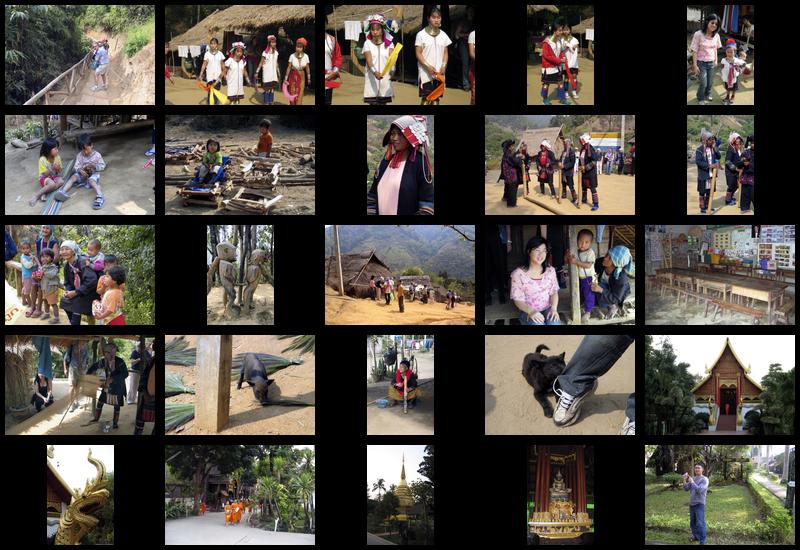 ---