Tolumnee Meadows region - September 2001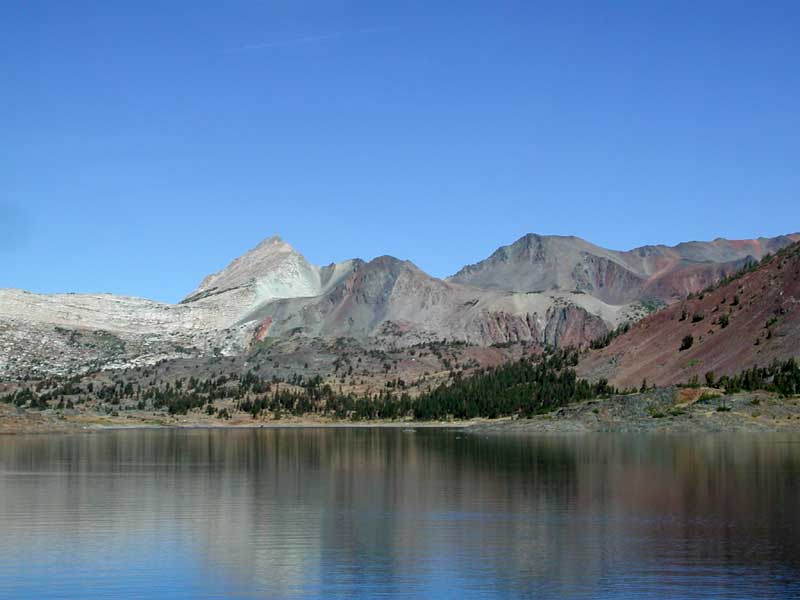 This was your basic run off and camp in Yosemite for the weekend trip - we had a large group of people, several campsites, and loads of food and drink. When not porking out by the fire, there was lots of activity from the usual hiking to frisbee by moonlight. Most notable was the day trip to the Saddleback lake region to try for Mount Conness.
Our campsite was the Tolumnee Meadows proper, within Park boundaries. Saddleback is just a few miles east of Tioga Pass, with a mix of paved and dirt roads leading north from 120. This area is a chain of lakes popular for fishing, but it's also a good place to camp/casual backpack if there are no Park reservations to be had. You can get a permit at the parking lot with no effort, just have to hike 2 miles before you can set up the tents. This area starts in the 9000 range, right near the timberline. You hit some spots of brush and trees, but it's mostly the large granite slabs that the area is known for, with several cascades and pools. We did a lot of class II scrambling about, but could not quite make it to the peak as the ridge got pretty spikey with a couple thousand feet of air to each side. I think we maxed out in the area of 12,000, a few hundred below the summit. Kent did make it to the local maxima of the ridge, a false summit of sorts.
One night we made a trek to Tioga lake to watch the sky. The moon was out in full force, and pretty much removed the stars, but it did make for easy travel on the meadows at 12 at night. Bright shadows were cast; one could almost read.
While we passed on my favorite 3/4 day Tolunee hike up Mt Dana, we did do the local 1 hour version of Halfdome, called Lambert Dome. It's a bump in the middle of the Meadows and has a great view in all directions. We closed out the day with a training run for Celeste, going from the visitor center to Tenaya lake on trail and (mostly) back. It was a fun double track all terrain trail that mostly followed the road, but with more ups and downs. We had originally planned to circle the lake and then come back, but were a bit too tired and turned on the sight of it. Later we found out there was a shuttle pickup just a half mile further. We ran walk about 3-4 of the 6 back, and then hitched a ride the rest of the way. It was a great run, but we definitely bonked. Neither of us had a watch, so we didn't realize how long we had gone on the out leg.