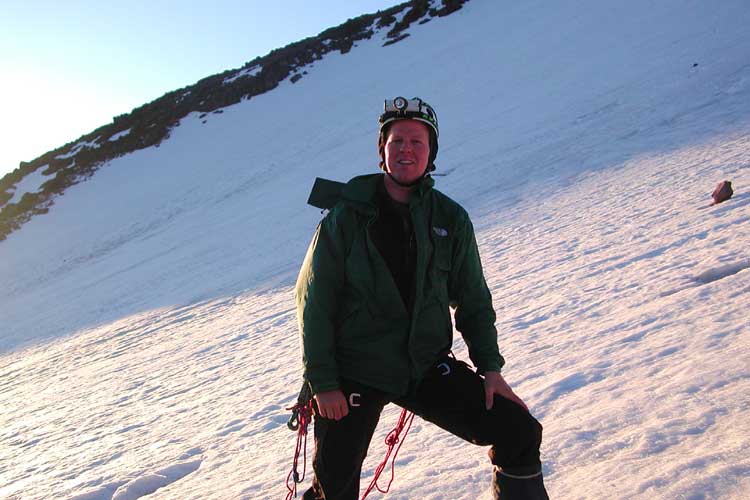 The Northgate trailhead is a bit harder to get at then Bunny Flat - involving ~10 miles on dirt roads, some well washboarded. However, it's much easier than it used to be - there are now signs pointing you to Northgate. The trailhead now has a kiosk for permits (you need both a summit pass and a parking pass - $15 and $5/day, or an annual pass gotten from the Mt. Shasta ranger station). It also has a basic bathroom - your last chance before entering the wilderness and a policy of hikers packing out their crap.
The trailhead is at 6950ft and at this late June weekend was free of any snow cover. Though it was seen in patches, heavy snow wasn't seen until close to the overnight campsite at 10,000. Up to 9000, the land is mostly trees, and then above that becomes a volcanic scree fall. Officially there is no trail on the map, but one has been formed. It's a bit of a nasty one with ascents (and eventually descents) down steep gullies. One of the rangers we talked to on the trip said that they intend to form a new trail soon for the initial 1500ft climb. I imagine it will have more switchbacks and less steepness to reduce the soil erosion.
At this point you reach a wide valley that slopes mildly upward for the next 1000ft of gain. It's a more pleasant stretch, or at least it was until we suddenly found ourselves in a hail storm that last half an hour. The story of the weekend was warm/cold. No sooner had you stripped your layers down to avoid the heat would hail or clouds cool things down again. And then the sun would reimerge and bake you. Towards the upper edge of the valley you start to get nice views of the main floor thousands of feet below.
At this point you've hit the timber line and the last of flat slopes before the summit plateau. A steep talus field lies between you and the popular campzone at 10,000. There is a trail of sorts, but it's hard slogging. Even harder going back down. I was extremely happy to hit the end of that stretch and make camp. No more uphills with that fat pack! This campsite is at the base of the Hotlum-Bolam Ridge route and has a semi permament ranger campsite. The rangers there can give all the information you need (and more) on routes. This area can get hit by high winds, so great care was taken in tieing down the tents. Someone in a tent here was lifted and thrown 50ft along the rock fall. This site offered one nice luxury - free flowing water from snowfall. There was no need to melt snow - you just needed to boil it or use iodine. I discovered I really don't like iodine - bad flavor and using a sports drink powder like GU couldn't overpower it.
The next day started at 1:30am. Or as I reminded everyone, about an hour before my usual bedtime. I didn't get much quality sleep before, even with the fatigue of the first day's effort. We ate some breakfast, and started gearing up for a 2:50 departure. We were wearing helmets, headlamps, and climbing harnesses. It wasn't too cold initially and while the moon was shielded by the peak, star light gave decent illumination as we started trooping up the snow. It was fairly easy going and progress was quick. At about 11,000, we started our traverse to the right towards the Bolam glacier. We needed to cross some rock ridges, so progress slowed a bit. At about 5am we roped up, as the sun was just starting to hint at coming. We had reached the first steep face with crevasses in view.
The snow was very firm - my crampons barely sank and my ice ax would get perhaps a half inch of purchase. The long westward traverse was a bit tough on my downhill foot, esp since as we were roped I couldn't do my alternation of slow and quick striding. But we made impressive gains as we looked back down on the sun and clouds below us. The crevasses weren't too big, but there were a couple sections where the ice made eerie sounds as you crossed over.
We got to the far right edge of the Bolam and above the main crevasse. From here we could get an impressive view of the Whitney glacier, and Shastina's peak which was about level with us. And above us, we could see the ridge to the top. But unfortunately, we were running out of gas and decided to turn. I think I could have made the peak, but coming down would have been a different matter. Going down was pretty quick, though with a few rocks flying down towards the end. I was happy to be back in camp, though a bit wasted and still unwilling to eat much. I got into survival mode - little food or drink (or packing sense) until I got back to the trailhead where our friend Don waited with cold drinks.
Pictures from this trip.
Avalanche Gulch : details on the main route.