Diving
We didn't go to Cozumel for the scenery; we were there to do some diving, and to enjoy a little bit of sun (except for Celeste and me) and warmth after a long long El Nino winter. We left SF at midnight, arrived in Cancun, took the ferry from Playa del Carmen (next time we'll fly directly in, I think) and arrived at about 10:30 local time. By 1 we were on the boat for our first dives.
Cozumel:
We did all of our Cozumel diving with Blue Bubbles. Their shop and boats were within 2 blocks of the hotel, did a nice dive gear storage and cleaning for us (no lugging to/from the boat), and gave us the same crew for the week. There were 6 of us, so we had our own boat the entire time. Jorge was our dashing, flirty young DM, Jorge , who couldn't keep his story about his love life consistent. All in all, it was a decent outfit to go with, though I think the durations were a bit on the conservative side. Next time we might try Aldora or Black Shark divers.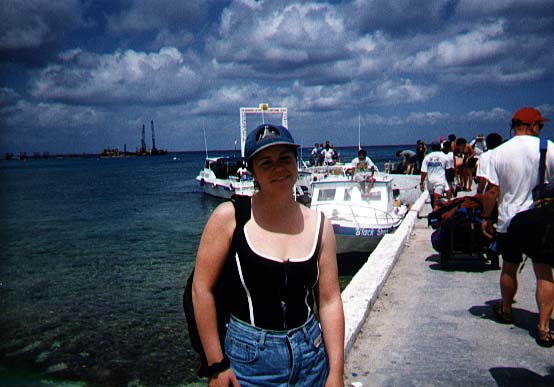 I had been to Maui before, but most of us had never left California waters. It was very pleasant seeing the bottom when you got in the water, and nothing was obscured by soupy water. I think we managed a dive off each of the main reefs, including Punta del Sur and Maracaibo. The Devil's Throat is a tube at Punta del Sur that begins at 80 and exits one the wall at 130ft. The inside isn't very encrusted as we'd see in Monterey, but the exit into the deep blue was far out. And probably just a bit narcotic. The next day we went to the even deeper waters (150ish) at Maracaibo for a very deep reef system. The most fun was me having a leaky o-ring on this dive.
I think the best dives were ones that had heavy relief on the reefs, giving me a mountain climbing feel, and then there was the night dive. During that I found I was able to easily see forms without my light, and might have done a lot of that if I wasn't more interested in looking at the eels.
Los Cenotes:
We all wanted to see the freshwater springs, so we got on the Ferry and head for the Yucatan with a guide. There are numerous ones there that still qualify (well, sorta) as caverns and don't require cave certification and knowledge. Nonetheless, the passages were small enough, and outside air distant enough to give everyone pause. One exception was the Batman cave that allows surfacing to get a look at all the bats that live there.
The mangroves that backdropped the cenotes were gorgeous green, and the clear fresh waters below were fantastic too. The water clarity was amazing with one key exception. In some spots there were pockets of salty water below a halocline and if that region was stirred up it got rather difficult to see clearly, much like looking through the exhause of a jet engine. On the plus side, the salt water was toasty warm.

The two dives were worth doing, but it was a pretty penny: $120 each for the day. At least it included the ferry trip and a tasty lunch. If you're never going to pass by springs elsewhere (Florida), go for it.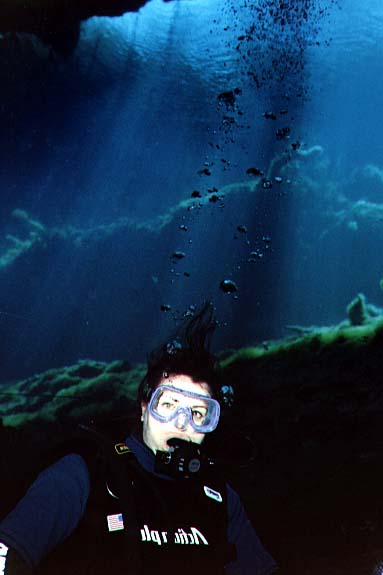 Isla Mujeres:
We had read in a guidebook about the 'sleep sharks caves' at deeper waters at this island off Cancun. There were similar ones at Molokini Crater, Maui, but I didn't get a chance to see them, so these would be good. We only saw a few sharks at Cozumel as it was. So we lug our gear onto the ferry and head for this island. Keeping in trandition, Vickie meets a stranger who volunteers to show us to the hotel and then to a good dive shop. We should have taken notice quickly when he happily waited at the dive shop for the owner to show up. Clearly a kickback system in place. I'm not sure if it would have made a difference - there aren't many dive shops on the island, but we might have done better. The only time we can fit their time table is immediately in the future. Once again we're diving less than an hour after our arrival. That made for a late afternoon and then early dusk dive.

The first dive is a wreck, a 30-40 ft fishing vessel that had fractured at the midships. It was interesting for the first 5 minutes, then it became questionable. We were surrounded by sand, so there wasn't much else to it. The DMs acted oddly; on occasion they grabbed our consoles to confirm we weren't going to die on them.
The second dive was to be the shark cave one. Luck and the prevailing currents would determine our success, they said. Well, there were no sharks. When I got back someone told me there were no longer sharks there, but I can't tell if he's correct. Yet it was a very good dive, with a California like feel. There was a lot more life growing on the reefs, and more of certain fish as well. And along one wall, we came across a sting ray that was probably over 5' wide. So at least the empty swim through had other attractions as well. When we got up we had a somewhat "interesting" trip back, coasting along in the dark with no running lights. Later we would discover that even if the boat 'sank' a half mile offshore, we'd probably be able to walk in.
So we each ended up paying Coral Diver about $75 for this two tank charter, expensive for Cozumel standards. I don't think I'd recommend going to Isla Mujeres just for the diving, and certainly don't recommend traveling there for just a day. It's just too much trouble to lug around dive gear and other luggage. About half the time you can find a porter to lug around 6 people's gear for 10 NPs plus tip, but it's much harder finding one going back to the ferry/terminal.
In Cancun, we saw a very strange contraption called Bob that allowed non divers to play in the ocean. I think one would be better off in the Submarine, probably see more life. The best attraction of Cancun to me was the view inland from the hotel.

Other Diving photos - we took a few rolls with the Aquashot 2 housing. We did not have an external strobe, so there is a lot of blue in the pictures, but it was still fun.
The lone baracuda
a large grouper fish
Vickie with her hair doing its thing
Ricard, Vickie, and I sitting on the panga
and lastly, this great image of a sleeping shark in Cozumel.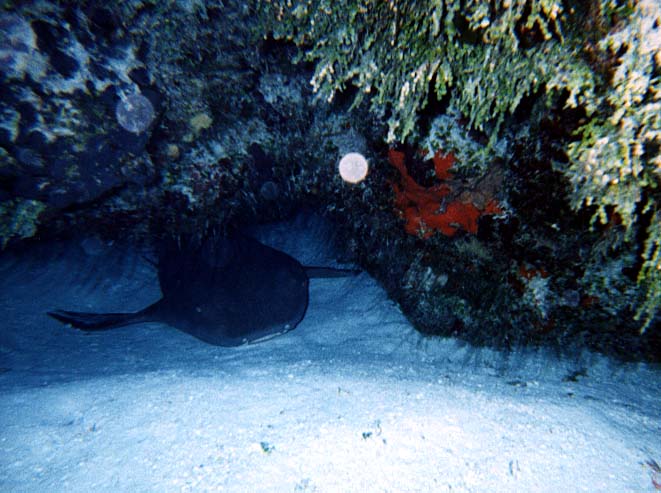 ---
Eating
Eating was the #2 activity after diving during our trip. About half of the time we managed something more local in flavor, the rest of the time the places were somewhat more tourist oriented. We did not, however, go to Pizza Hut or the Kentucky Fried Chicken next door to the hotel. (I don't even like those places at home).
It can be surprising, and a bit irritating, how slow meals go at most Mexican restaurants. The notion of dashing into a place, grabbing a quick bite and running is likely to get you in trouble. It's just not the way it is done. If your dive boat leaves the port in 30 minutes, I'd suggest going to the market and getting takeout. Alternatively there are some sidewalk vendors.
I don't have the names of the best few places we ate at. One was a place on the mainland that we hit on our way back from the Cenotes, and was nameless. But their fish was very good. The other nice place was a few blocks inland from the main square in San Miguel and I only wish I could recall the name/location. Too damned good!
I do have the names of places I wasn't so happy with, starting with La Mission (?). The place next door (owl place) is much better bet, and you might not get billed for an extra margarita and 3 ice creams. Knowing your Spanish menu can save you money sometimes. That aside, I'd say the steak/lobster there is fine, but I think next door would have been even better.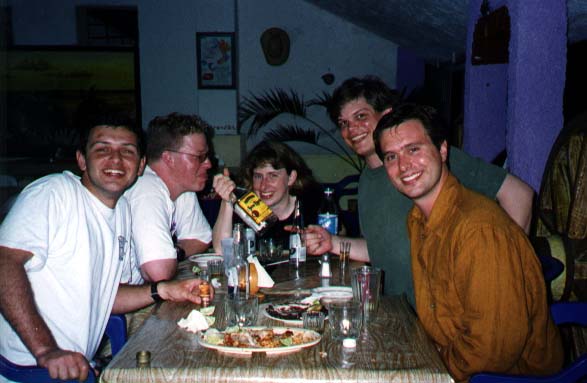 We stayed at Isla Mujeres for one night and picked for a dinner a place that the local had suggested to us. It was much better than his dive shop recommendation - very authentic to the area. In San Francisco I can get a lot of decent Mexican food, but most of it has been anglicized to a degree. The one curiousity about this restaurant was their reluctance to serve us tequila, even those we could see a bottle behind the counter. Vickie made such a fuss that while waiting (see my comment above about dinner pace), Celeste and I walked to the store and brought back a fifth. We then asked for shot glasses and limes, which they were happy to provide us. Once again, I don't have a name, a shame because it was a great meal at about $3 per person. Do you think Brad enjoyed his shots, err, meal?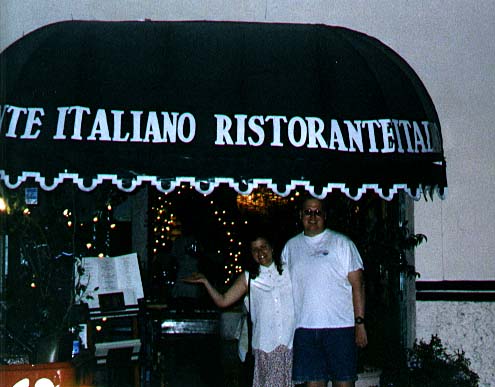 There is only one restaurant that I will condemn, and I do so for its rather extreme case. I could be overreacting, but then again I had a perfectly good meal at the place on the Yucatan Penisula where a dog walked in and crapped under one of the adjacent tables. At this place, which was rated as one of the two excellent Italian restaurants on the island, we received two salads with bugs (apparently, hopefully dead), had another experience with bugs falling from the awning above into the food, watches rats running along the outside walls just 8 feet away, and then struggled to get a check so we could book it out of there. Afterwards, either the food or the power of suggestion had me pretty queasy and we all went quickly over to Captain Morgan's for a warm toady.
Dinner with a View and then another view of los ratos.

Flaming coffee was one of the great spectator sports at the restaurants. Most had something, but Capt Morgan's was the best for show. The waiter would bring the warm coffee out, pour in the liquors, light it up and splash it from one cup to the other in a fiery show.
One tourist trap worth mentioning is Carlos N Charlies, the Mexican equilivent of TGIF. Unlike Planet Hollywood, it was a happening place every night and was a good place to go if you wanted drinks, familiar music for dancing, and decent food that comes quickly. A great place if your stomach is dying for a US style steak. And if you're Vickie, there might be a soldier who may have gotten arranged a date while toating a rifle.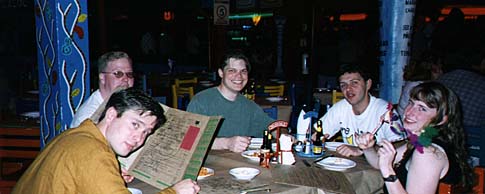 ---
Other Pictures: There are a few pictures that don't fit yet, but I had ready.

The VWBUG , still produced everywhere else in the world, though apparently not with brakes.
George with a monkey on his back.
I'm reading my motorcycle mags in the mangroves