It seems almost unnecessary to include this, but there are people who have not made it up to ski or snowboard yet in their lives, and are afraid to start now. You shouldn't be - today's gear allows for an easier learning curve and there are plenty of beginner friendly spots to go to.
---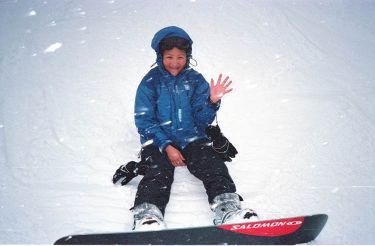 Required people - 1+. As a total beginner, you probably can't expect too much time from your more experienced friends, so drafting another might be good. With snowboarding, you're likely to get to the intermediate level more quickly, and can hang with many of your buddies.

Required gear - mostly warm clothing, and if there is any chance of snowfall, goggles. Sunglasses or nothing will not work if there is pelting ice driven by a fierce wind. (It may seem calm at the bottom of the lift) You can rent gear initially, though as soon as you get in a bit of snow time you should think about getting your own skis or board. Aside for ditching the horrible lines in the rental shop, you avoid the problem of learning to deal with new and probably not well fitting gear at each new rental shop.

Required time commitment - 1 (long) day, or a weekend trip. You can get to Donner Summit in as little as 2.5 hours depending on where in the bay you're coming from. Traffic returning on Sunday night can be frightful, especially if it is storming. One big plus for weekday skiing if you can pull it.

Costs - Lift ticket is 20-60, though nearly every place has some sort of coupon deal if you look around. Costco sold Kirkwood tix in packs of 4 at a reduced rate. Just remember that tickets bought up front expire at the end of the season, while coupons can be used or not. Check the web for skier discount listings. Gear rental can range from 15-30, and lessons are 20-40. For beginners, there is usually a package deal with a limited lift ticket that will save you some money.
---
The season opens as early as October at Donner Summit with an early snowfall, but usually isn't open continuously until at least Thanksgiving, and on most years more like mid December. Resorts open with only limited lifts if the snow cover is light - check the number of operating lifts before going. At the end of April, most resorts will close regardless of snow levels, as people stop skiing. Heavenly may remain open as long as July 4th in heavy years as they have enough people at the casinos.
Links:
Yahoo's snow site
Kirkwood - my favorite Tahoe resort.
Sugar Bowl - #2 on the list and a bit shorter of a drive along I80.