Kayaks are the most maneuverable watercraft for getting into the backwaters of nature. You need water that is but a foot deep and you can turn and stop like no other boat. You can also go much faster than other human powered boats like canoes or rowboats.
---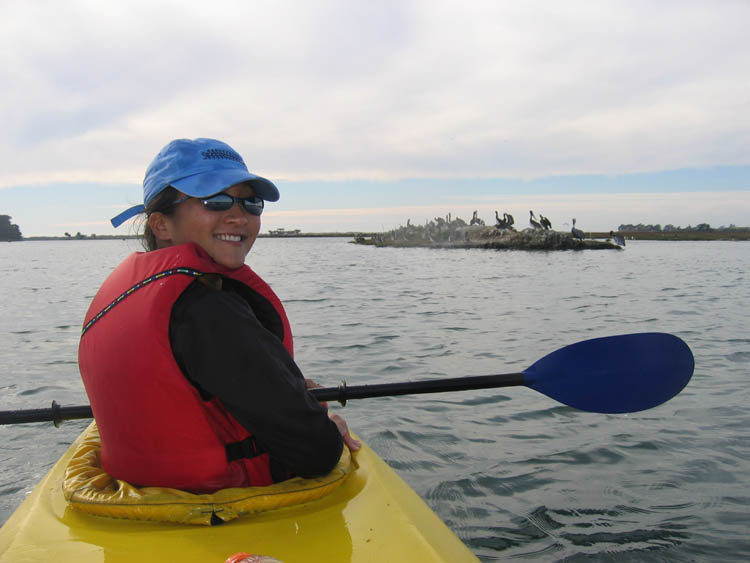 Required people: 2-. While this activity can be done alone, it's generally best to be out in the water with someone else. In particular, it's much easier to bail out the water in a closed hatch kayak by using another.
Required gear: generally none - provided by outfit you rent the kayak from. If you buy your own boat, you will additionally need a paddle (suprisingly expensive), and a PFD to meet Coast Guard requirements for watercraft. If it's a closed hatch, you'll also want a spray skirt. Clothing wise, you may well want a wetsuit (and many rental outfits will insist), and on top a waterproof jacket with tight wrists is desirable. And once again: hat, sunglasses, sunscreen.
Required time commitment: half day. Basic lessons are a 4 hour class, and paddling on your own typically would be a couple hours in the water.
Costs: kayak rentals vary greatly. Some places rent by the hour, other's by the day. Monterey Bay Kayak's $30 price compares well to Berkeley's 10/hr only if you're going out for a few hours, or rent early enough in the day that you can stop a while for lunch.
---
Boats: There are a wide selections of designs for different purposes. They are loosely divided into 'sit on tops' and 'closed hatch' designs. The sit on tops can be very affordable, ranging from 300-900 for used and new. The closed hatch boats, otoh, start near 1000 and run substantially higher.
Untrained beginners are generally given sit on tops. These are wide and fairly stable, and as the name implies, the user is on top of the boat. If it tips, he simply falls off. It's pretty easy to get back on and hard to get into too much trouble. For the most part, they are less comfortable (poor back support) and slower in the water due to the wider draft. Their stability does make them ideal for kayak based scuba diving, which I've done a few times. Not much labor is saved, but it enables a diver to get to near shore sites that otherwise require a boat. One more advanced sit on top worth looking at are the narrow designs that resemble crew boats. They require good balance, but can be extremely fast. And fun, if you don't mind crashing left and right. Sit on tops come in two person and now three person formation. In general, it is better to pay for 2 separate single boats (usually about the same rental rate) unless one is a weak paddler. It's harder to balance, and paddling must be synchronized with the larger boat.
Higher performance usually comes with the closed hatch boats. These put the lower half of your body in the boat, and so your butt is actually below the waterline. This makes for a good position in the water for paddling, and the seat is formed to give back support. The boats are narrower, and usually from better (slicker) materials than the tupperware sit on tops. Bigger ones have multiple hatches for storage and can be used to take multiday trips. The downside to this design is that they are a bit less stable, and if you roll over, you have to a) get out of your cabin and b) drain out the water. In the smaller river boats, the user rolls right back up again, but this can be harder in the ocean kayaks. Unlike with the sit on tops, you really want to avoid tipping over.
If you want to use the superior closed hatch boats, you'll need the equilivent to the basic kayaking class offered by Cal Adventures and most of the larger rental sites. A 6 hour course is approximately $90 and will cover basic strokes, self and assisted rescue, and the equipment itself. When asking to rent a closed kayak, you may be asked to describe a T rescue or in some cases like Monterey Bay, a solo rescue.
Places to kayak:
Berkeley - nothing too special here - the water is brown and if you stand in the shallows, you'll sink to your knees or beyond in the muck. But it's pleasant on the bay and at the point you can play in the waves.
Jack London Square - California Canoe and Kayak has many good try before you buy type programs and runs a social sunset paddle in the harbor every Wednesday, if memory serves me correctly.
Sausolito - This stretch is well protected by the wind shadow of Marin, though you must take care to note tidal currents to be sure you won't be taken out to sea. It's a moderately long paddle out to Angel Island - many outfitters do an organized trip out there for newbie types. You should be able to do it on your own as well.
Monterey - paddle in the kelp, where you will see harbor seals, sea lions, and the local sea otters. Keep in mind that you must keep your distance, unless they come to you. You can't harass them (50ft min distance), but they can harass you. A friend has had a seal pup jump up on the front of his boat looking for a napping spot. Monterey does have a bit of wave actions and wind currents, particularly later in the day. Starting early is best, or be prepared to work a little. As a human powered craft, you should have right of way as you pass by the harbor opening. However, MBYs and others might try to pass off the 'law of tonnage' where might is right. It's not correct, but it is wise to go along with. You are much more agile than the big boats and should be able to steer clear of them.
Rivers- river kayaks are more adept in the rapids than the lumbering boats for 7. But you definitely need the experience to do so. All of my kayaking experience is in the ocean, but many of the shops do offer instruction in dealing with the rapids.
links:
Monterey Bay Kayaks
Cal Adventures - Berkeley's best training outfit.
California Canoe and Kayak - Jack London Square.