This Chinese variant of crew has become very popular in the past 5 years in the Bay Area, and outside the old homestays of Hong Kong and Canada. The Europeans have picked it up (and lead in boat design now) and I would expect serious consideration to making it an Olympic event at the 2008 Games in Beijing. It is a true team sport, where the strongest individual rower means nothing without the rest of the team behind him or her. In few sports is the 20th person on the team as important as the first few.
---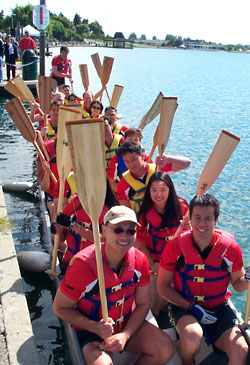 Required people: 1. You join a team. Each team goes into the water with the full complement (hopefully) of 20 paddlers, 1 drummer/captain at the bow, and a steerer at the stern. Stronger teams have slightly more people to make up for absences on race weekends.

Required gear: none. Paddles and PFDs are provided, though many buy their own paddle (~20-30) and some their own PFD. Booties may good footwear and a hat and glasses helps, along with the sunscreen.

Required time commitment: 3 weekend days. You can try it out with a novice team that practices a few times before a single event race, or you can join a club that starts paddling in March and does many races locally and internationally, running through October. Or something in between.

Costs: vary from none to club dues, which cover costs of race entries. Some teams buy race jerseys similar to those used by cyclists, which can cost up to $70. Expect 50-100 for the year as typical.



---
Of the 20 paddlers, there must be at least 8 women in mixed racing, the primary division. Most regattas have a men's and women's event, but it's generally more of an exhibition after the mixed finals. Teams are company based, or club based. You can check with the local organizations for teams looking for new people. The most competitive clubs start in March, while more casual novice groups might only go out for 3 practices in the weeks before the events (typically July and September). Figure on needing at least 3 practices to get the basic stroke down and condition your shoulder. This isn't great form, but enough to do the 400 or 500m race at the novice level. Many teams do go out with less prep, but do not succeed.

While this sport isn't purely about competition, it is still a race. Yet because each team is really competing against itself and the clock rather than the other boats, everyone is quite open and friendly. A shorthanded team can easily get a few extra paddlers to fill in the rows, and teams will merge for the men's and women's races at the end of a meet. Everyone takes the racing seriously, but afterwards, it's buffet and volleyball.

Links:

California Dragon Boat Association - San Francisco/Foster City.
Dragon Warriors - my current team.
International Dragon Boat Association - Jack London Square, Oakland.